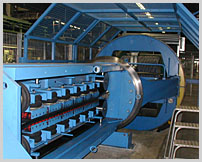 From simple rectangular belts to poly-V belts with central groove on its carrying side we provide as well as special profiles according to your particular requirements

Our belts are equipped with thermofixed edges for short and medium lengths. Longer belts - from approx. 6'500 mm - we recommend to fit solid rubber edges. Thus we ensure optimum protection of the reinforcement layer. For operation in rotating machines solid rubber edges are provided standardly.
Antriebs- und Foerdertechnik's belts are characterized by particularly smooth and straight run.
See for yourself the quality of our belts!